Moscode Mods
MOSCODE POWER AMP UPGRADES

Click to Enlarge (New Window-Click Big Pix to return)
You will enjoy a tremendous improvement in detail and midrange clarity, smoother, more extended highs and tighter, more natural bass. You will also gain a deeper, broader soundstage and better localization of instruments. Background hiss in the Moscode™ 150 and 300 is eliminated. A ten-fold improvement in sound quality can be yours with this modification. It's like getting a new amplifier for one-fourth the price!

Basic Upgrade
We replace the 6DJ8 & 6FQ7 driver tubes with four new 6FQ7's and modify the circuit values to support these tubes, replacing over thirty components.
The amplifier becomes a lower feedback design with wider bandwidth (to 300KHz) which yields vastly improved detail.
Ground modifications further improve the soundstage by giving more depth to a broader soundfield.
We also replace some components for the sake of reliability.
Investment
Basic Upgrade 150, 300 $399.
Basic Upgrade 600 $459.

Tubes -

Audio set for either amp - (4 X 6GU7) $89

6LU8 (600 only) $29 ea

6DJ8 - New - market price (like lobster on Cape Cod!) Used tested - $15

New! DirectWire™ Upgrade

This upgrade is significant and will add the last bit of detail andspaciousness available in this amplifier!
We replace the 16-gauge internal generic wiring used for the speaker and power supply hookup with MonsterCable™ 12-gauge wire.
DIRECT SOLDERING We directly solder to the circuit board and eliminate 9contact points in the speaker path.
ELIMINATE SPEAKER FUSE AND RELAY We rewire the speaker relay to mute theamplifier during warm up by shorting the signal to the output stage toground instead of disconnecting the speakers with a set of contacts. This removes the relay from the circuit during normal operation. Full protection is maintained, however, as protection sensors remain operational. The fuse may be left in at your request and wired into the feedback loop to protect low power speakers.
Investment
DirectWire™ Moscode™ 150, 300 $379.
DirectWire™ Moscode™ 600 $449.
Additional Upgrades
GOLD INPUT JACKS W/ INPUT CABLE Replaces the ill-fitting jacks and steel input cable in stock unit. Installed $49.
CARDAS NUDE COPPER SPEAKER POSTS Massive solid oxygen-free copper speakeroutput posts. The best of the best! Installed $99.
MAXI-CAPS Large value polypropylene bypass capacitors for the power supply smooths out the highs and midrange by increasing the speed and reducing the impedance of the power supply from the midrange on up.
Installed:
Maxi Caps 300 $139.
Maxi Caps 600 $189.
·MIT Coupling Capacitors Replace the stock coupling caps (the ones in the audio path) with MIT polypropylene and polystyrene caps. Reduces glare, improves detail. Takes about a month to break in but then watch out!
MIT Cap Set $249.
NEW POWER SUPPLY CAPACITORS-
Improve the performance of amplifier by doubling the size of the power supply reserve. Stock 25,000 Mfd caps are replaced with 55,000 mfd caps. This gives a much greater reserve of power for the Big Bass Whomp. New caps feature lower Esr (equivelent series resistance) and modern cap technology for faster response. Cap sizes and availability are subject to market conditions and supplies.
Big Caps - Call for pricing.
OUTBOARD POWER SUPPLIES For DUAL MONO OPERATION Outboard Power supplies
Minuet & Minuet in A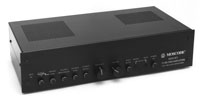 Basic Mod Improved soundstage, extended frequency response. Power supply mod adds depth and clarity to sound. Includes switch, controls and jack cleaning and higher quality parts. After upgrading you will have the most musical and reliable tube preamp in this price range.
Minuet Basic $349.
Minuet in "A" Mod (Phono stage only) Addition of a cathode follower stage to drive the RIAA phono equalization network totally removes veiling and adds extended highs, and a much larger soundstage.
Minuet in A Mod $359.
Minuet to Minuet in "A" Conversion Conversion of Minuet to Minuet in "A" (includes above Minuet in "A" mod) $549.
M I T Caps - line stage only- $199., complete $299.
Tubes - replaced as needed for Mod -

Email for prices

MINUET IN "A" (only) OWNERS MANUAL-$15. - send a check.
SUPER "IT"
Gain adjustment up to 72Db! Use with ANY MC Cartridge.
Addition of a cathode follower stage to drive the RIAA phono equaliztion network totally removes veiling and adds extended highs, and a much larger soundstage.
Removal of Volume and Balance controls when used with another preamp further opens up the sound. (OPTIONAL)
Our customers tell us it outperforms the Audio Research SP9!!! $299.00
MIT CAPS - $199.00
We are the only people who truly know this great audio gear inside and out. You won't get service like this anywhere else because no one has serviced and modified more NYAL products than we have. ALL WORK IS PERFORMED BY OR UNDER THE SUPERVISION OF GEORGE KAYE, FORMER CHIEF ENGINEER FOR NEW YORK AUDIO LABS & MOSCODE DESIGNER.